Three Things And A Bonus Uses Of A Silica Gel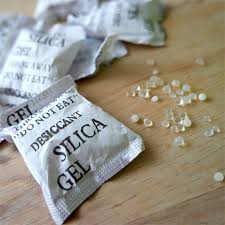 When we come into contact with silica gel the first thought is to toss it away because we believe it us poisonous. But on the other hand silica gel is as useless as we think it is.
Here are three things you can use a silica gel for
1.Silica gel can be used to get rid of fog on glass surfaces.
You can tuck it into your underwater camera case. Underwater camera casings are real tigh but even if stray moisture and condensation don't ruin your camera, they can fog or streak across your lens. That would take away all the fun when you replay the videos you took.
2 Remove foul scent from your cloths
To prevent your cloths, bed sheets and towels from smelling moldy, you should store them with a few silica gel bags. The same trick works for gym bags, lockers, and even sneakers. Silica gel absorbs the moisture, which slows down the spread of bacteria and prevents unpleasant odors
3 Prevent rust and corrosion
Excessive moisture is one of the reasons why corrosion starts in the first place. Keeping silica gel bags with your razor blades, screwdrivers, hammers, and even silverware is a great way to save them from rust and tarnishing.
Bonus
Silica gel isn't toxic as we always thought it doesn't break down inside the body but, you should never eat it. There's also a high risk of choking on this gel. That's why manufacturers insist that it should be kept away from children and pets as they might choke on it.
It can easily get into headphone jacks and other contact sockets on a device and block them. So be careful and use silica gel bags if at all possible.
Don't heat up silica gel. Overwise, it'll lose its useful features and may ruin some of your things if it comes in contact with them.
Entertainment freak || Facts only ||
Mechanical Engineer by profession, i guess i can do blogging part time right? Right, there we go, thats where it all started