Sista Afia Finally Breaks Her Silence After Akuapem Poloo's Allegations Against Her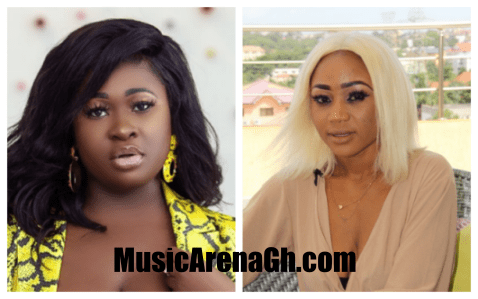 Sista Afia Finally Breaks Her Silence After Akuapem Poloo's Allegations Against Her
Queen Solomon, as she is affectionately called, has finally responded to the several accusations and allegations leveled against her by Instagram model Akuapem Poloo.
Yesterday, Akuapem Poloo posted some videos online where she claimed that Sista Afia offers sneakers to men in exchange for sex.
She also accused Sista Afia of sleeping with Medikal and went on to say that she even allows men to insert their feet into her vajayjay with reference to a video that surfaced in 2018.
Many people have waited for a response from the Slay Nation Queen and indeed she has reacted to the several claims made by the latter.
According to Sista Afia, she is aware of everything going on but she has decided not to respond to any of that because she doesn't know her agenda.
She, however, noted that at the right time she will address them but as at stands now she isn't interested. She said in an interactive session on twitter.
"Yes I've heard. I won't address it cos I don't know her agenda. I will address it at the right time. For now I'm not interested #AskQueenSolomon" her tweet reads.
https://twitter.com/sista_afia/status/1255238594186313729?s=20
Kindly take a look at her posts and watch her videos below if you haven't.
https://www.instagram.com/p/B_exlDEpg8o/
https://www.instagram.com/p/B_e2LLNpLgA/
https://www.instagram.com/p/B_e5oQ8JEK3/
https://www.instagram.com/p/B_e93Zhpv9Q/
https://www.instagram.com/p/B_fH2cDJcHv/
Celebrity & Lifestyle Blogger l Publicist l Writer l Online Content Manager l Music Arena GH l Promoter l BIC