My Ex-Manager Asked Me To Pay GHc120,000 To Get My Social Media Accounts Back – eShun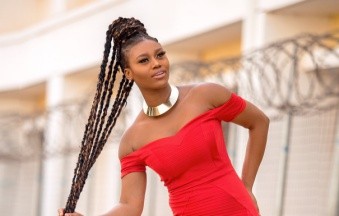 My Ex-Manager Asked Me To Pay GHc120,000 To Get My Social Media Accounts Back – eShun
About two hours ago we reported a story on Ghanaian singer eShun who narrated how her ex-manager and fiance abused and tortured her while they were dating.
The singer revealed his then manager promised to make her big on condition that she sticks with him hence had no choice than to endure all the pain and torture.
Read more here: My Ex-Fiancé Was Abusive So I Cheated On Him – eShun recounts
In the same interview, eShun who has now rebranded to Queen eShun revealed her then-fiance asked her to pay a whooping Gh120,ooo so he hands over her social media accounts to her.
She told Zion Felix that she created the social media accounts with him but since he was an IT expert he could handle such things better.
Queen eShun posited that at that time, not all posts were originally from her because he also had access to the accounts.
She was even bashed a number of times for certain posts on her pages which she wasn't aware of at the initial stages.
The singer also recalled how she had a fight with Moesha Budoung due to a post her man posted on her pages. This came after Moesha Budoung's infamous interview with the CNN journalist two years ago.
"I asked him to change the username if he doesn't want to hand over the accounts because I was frustrated. He told me to pay a sum of Ghc120,000 for the social media accounts before he gives them to me" she categorically stated.
She disclosed if she should also charge him for everything she ever did, every effort she put in, she isn't sure he would be able to pay. Watch the full interview below.
Celebrity & Lifestyle Blogger l Publicist l Writer l Online Content Manager l Music Arena GH l Promoter l BIC