Demolition At This Time? Is It Necessary?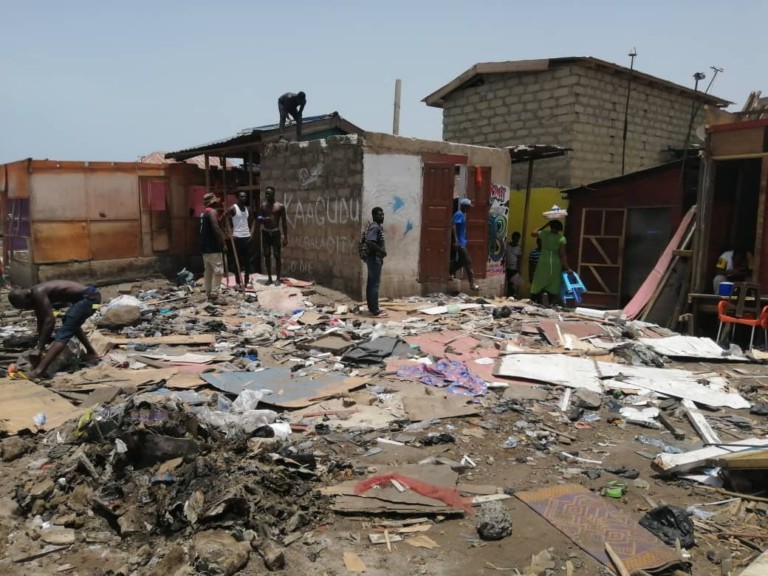 Have you heard about the demolition exercise in old fadama? Have you ever heard of Korle Lagoon? Everytime it rains heavily the Korle lagoon floods killing at least a person, this is because of the dirt and filt in the area.
On the other hand 1,000 slum-dwellers at the Old Fadama in Accra, have been rendered homeless, after the Accra Metropolitan Assembly (AMA) demolished wooden structures to pave way for the dredging of the Korle Lagoon
In recent times the World Health Organization has adviced dwellers on earth to practice social distancing in order to contain the spread of the Coronavirus (COVID-19).
Aside washing of hands regularly and sanitizing your hands as often as possible, social distancing is the best way to go. The president of the Republic of Ghana H. E Nana Akuffo Addo, has tried to easy the burden of the citizens to make this possible.
Yes all we understand the importance of dredging the korle lagoon, and how many lives it would save by demolishing those structures, but don't you think a time like this is the worst to do this?
Moreover this sprouts tons of questions like, where would they sleep, aren't they been exposed to the virus? Remember greater accra has been locked down, which means you can't travel to other parts of the nation.
Let's say they want to go back to their hometown to seek shelter, do think they would be able to evade all those military men? And if they make it to their hometown, aren't they putting all those other people's live at risk?
Personally I think this is the not the right time for demolition especially when everybody is at the risk of contracting the COVID-19 virus.
There is time for every thing indeed.
Entertainment freak || Facts only ||
Mechanical Engineer by profession, i guess i can do blogging part time right? Right, there we go, thats where it all started